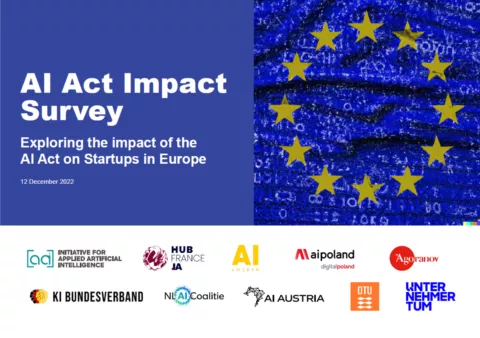 Together with a broad range of European contributors of this report appliedAI aims for global leadership in AI in each of our country's AI strategies as well as in the European one. AI is considered a most strategic and transformative technology with a major impact on our industry as well as society. This is also the reason why our institutions exist - be it established by the national governments or from the private sector. We all strive for achieving the goals of our AI strategies and share the common targets competitiveness, trustworthyness and speed.

Having received the feedback from our innovation ecosystems on the AI Act which is outlined in this report, we strongly advocate in all the discussions about potential risks and negative effects that we do not forget how AI can be used to help achieve our targets in the European Green Deal, Healthcare, Digital Sovereignty or other dimensions. The current strong imbalance in the discussions about the regulation will move us from being the shapers to becoming shaped by others. We would lose our innovative power in AI. We hope that the voice of a truly European AI ecosystem will be useful in the discussion of AI regulation in Europe.
This report is based on a profound survey and gives a masterly overview of the impact of the AI Act on Startups in Europe.